Love Escape Retreat
A retreat to (re)connect with your romantic partner, on a tropical island in the middle of the Java sea. Karimunjawa is the perfect decor and Alam Kita has the right elements for a special and intimate time. Just because it makes you feel good or because you and your partner really need it.
Price is € 2.150,- per couple for 7 days, 6 nights
Alam Kita started as a place to get closer to yourself and nature. A magical place that makes you feel reborn. It is wonderful when in this process we can witness individuals who find each other again as a result of an individual journey. Falling in love again or experiencing a new level of love, one they never dreamed of. And this purely through peace, understanding, and fun. This is how the Love Escape Retreat originated.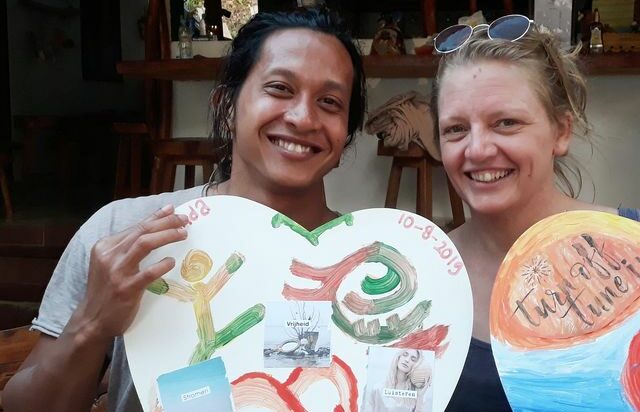 Or do you feel like…
Years have flown by and you have forgotten what it felt like to experience youthful giddy love?
You have lost your way to each other, the center of your love and the connection to nature and yourself?
The fire in your relationship never extinguished but your partner and you continuously look for ways to "spice it up"?
There is not much left to discover about each other but do you still have the need to experience a new dimension in your relationship?
This can be a huge relief because you have finally found something that suits your partner and you. But it can also be very confronting because now you realize that it might be time to put extra time and attention into your relationship because it is possible to get even more out of it.
In either case, we are in no hurry. Think about it carefully and contact us anytime for more questions, a no strings attached introductory meeting, or perhaps because you need help convincing your partner to do this Retreat with you. Take your time, Alam Kita and the Love Escape Retreat aren't going anywhere. We believe that things happen when the universe planned them.
This retreat is meant to be for couples with a healthy relationship who are looking for more depth in their relationship. Coaching from Margo is pointed to to give your relationship more body. It is not relation therapy but a romantic fun week on a beautiful island, in which you choose to give time to each other and live in the moment with each other. Make new memories, rest from the busy life in the Bridal Suite with a light and enjoyable program that will help your relationship the way you want it to.
The price of €2.150,– per couple for 7 days/6 nights includes
6 nights (2 persons) at the Alam Kita Bridal Suite
7 days program with workshops, (duo)yoga, meditations, excursions, and more
Snorkeling & Island Hopping tour
Special Camping trip include bonfire
Romantic diner at the Alun Alun (fresh fish) in Karimunjawa
Indonesian traditional massage or Access Consciousness® Bars treatment
A week with 'soft' coaching/guidance by Margo
Transport from the harbor or airport
Breakfast, lunch, and diner during the whole Retreat
Unlimited water/tea/coffee**
**   Soda's, smoothies, or alcoholic beverages are not included but will be available at the bar

Travel expenses to Karimunjawa are not included in the prices mentioned above and your booking is final after you received the receipt of your payment from Alam Kita.
Do you like to combine this Love Escape Retreat with, for example, 4 extra days in Jogjakarta? We can help you arranging this. Please contact us for more details.
Who are the facilitators?